Erin & her picnic backpack!
Thanks to evenings with the Austin Symphony and lunches at Zilker Park a minute away from where I work, I've really grown to love picnicking at the park. How do you do it? Here's a few suggestions:
1. Keep a picnic blanket folded up in your car. This guarantees that you can be prepared even when you're spontaneous about it. Also, it helps if you have a CR-V (like moi) because I have a foldable table in my trunk, whassup!
2. Bring sunglasses and a hat. If you don't get some tree space, you're gonna be under the sun, and we know what summer in Austin is like (you might as well bring a pan to fry eggs outside). Shaded places are infinitely cooler and more enjoyable while you're eating!
3. Make loaded sandwiches and don't skimp on ingredients. If you're not buying food there, go all out with nice bread, thick slabs of mozzarella, and be liberal with the guac. Don't worry about being excessive (but be reasonable). In my experience, Melissa will bring a huge cooler bag and fill it up with fruit, chicken, watermelon, and her awesome fruity guacamole.
3. Spread all of your stuff out. The cool thing about picnics? You're not restricted to a table, so claim your space and take up as much room as you want. 
4. Bring a book or games. If you're with friends, card games are easy to set up (learn how to play Tunk). If you're alone and don't really want to chat with anyone, reading is super nice. Or you could chat with yourself ("This sandwich is delicious!")
5. Bring extra drinks. It's better to have more than enough than not enough and to have one sad person who is thirsty (aww). My friend Frances brought small box wines. Plus, generosity is very cool.
6. Watch out for fire ants! You could be barbarian and kill them, but I just flick them off and feel better about it. Those tiny jumping spiders are an entirely different story. Don't hold back with those! Your life is in danger. 
If you want to go all out, get a sweet picnic basket or a boss picnic backpack like the one Erin has, which holds 4 wine glasses and a stack of plates. So cool and great for hiking! Where are your favorite places to picnic?
See more how to's here.
—Sharon
1:27pm |
Comment
(Source: fastcompany.com)
Lately I've been setting my alarm for half an hour before I normally need to wake up. I  then snooze for another five minutes. But those extra 25 minutes have been invaluable! 
I'm not scarfing down breakfast, putting on mismatched socks, and sprinting to work anymore. Now there's time to make a smoothie, put on some music, tidy up my room, and stroll ever-so-casually to the subway stop.
After reading "What the Most Successful People Do Before Breakfast" on Fast Company, I know I'm not alone in treasuring these longer mornings. Laura Vanderkam writes, "That is ultimately the amazing thing about mornings—they always feel like a new chance to do things right. A win scored then creates a cascade of success. The hopeful hours before most people eat breakfast are too precious to be blown on semiconscious activities."
She suggests picturing the perfect morning. See it as an opportunity for personal or professional growth, whether it be through running, reading a religious text, or taking an online class. Then you build the habit of getting up earlier by going to bed earlier and allowing your body to adjust.
For some people, there's no such thing as the perfect morning. Mornings are that awful time when you hate life and everyone has a little too much bounce in their step. I am one of those people. But I think you we can learn to at the very least tolerate mornings and make them useful. 
Personally, I'd like to stick to this morning ritual: go for a run, make a delicious breakfast (maybe something like this), and listen to podcasts.
What does your "perfect morning" look like?
—Valerie
11:03am |
3 ♥ |
Comment
A friend of mine invited me to this tea party at Zhi Tea for their 5-year anniversary—since I've spent some good time brainstorming with my roommate for a housewarming party last year, here are some things I've noticed that made it very enjoyable if you're thinking of throwing one:
1. Label different tea stations. Get creative with your inventions—this tea party was filled with kombucha and teatails: teas mixed with gin and Texas Rice sake, lavender, peach, pomegranate slices, and ginger. This also lets people walk around to each station (good party circulation) to read ingredients & try them.
2. Have lots of cute cups. The ladies at Zhi got lucky at Goodwill with cute plastic tea glasses and skinny cocktail glasses, but small and clear plastic cups are pretty too. If you're on the lower side in number, have an area where people can return them so you can rewash and reuse throughout the night.
3. Have a wide variety of snacks. Zhi's vendors provided iced madelines and cookies from Amity Bakery, delicious mini pudding pies from the Pie Society, and there was a large veggie platter with dips and roasted sunflower seeds.
4. String some lights or light some candles. These lights were bigger and rounder than normal Christmas lights and double-strung for a cool effect, and when it got darker, each tea station had a few small tea candles, which created a nice ambiance.
5. Play some music. The owners of Zhi Tea were also in a band and did covers of Amy Winehouse, which kept the feel from being too overly sweet from all the candles. Ask your musically talented friends or Spotify an energetic station that balances your "decorations".
6. Have some sitting space for those who want to chill, and table space for those who want to eat. Fold up chairs and picnic tables work well! Also, toddlers can put their toys on the table. :)
7. Put out a bottle of bug spray! I really appreciated this at one of the stations, because we were being eaten outside around dusk. It was really thoughtful of them to consider!
What else would make a great tea party? I've found that it's a great idea to tell your friends to each bring a friend—that way everyone meets someone new. Tea's easy and relatively cheap to brew in large amounts, but if you weren't into tea, what would you serve instead that your friends would enjoy?
—Sharon
11:39am |
3 ♥ |
Comment
(Via reinventingmommy)
This post is thanks to Joy—a friend who loves completing marathons with some tips to share! 
Running a marathon may sound unreachable, but it all comes down to how badly you want it. The best runners possess a tough mental strength along with a disciplined exercise routine. Here are a few tips on how to get started:
1. Pinpoint your reason to run: a worthy cause, a loved one, self-improvement, or just to see how far you can push yourself. Keeping this purpose in mind will definitely help during the longer runs.
2. Find a training plan (many free ones for beginners are online) and stick to it! No matter how tired you are after work or school, schedule time for exercise. A running partner may help keep you accountable or even push you to try harder.
3. A healthy diet stocked with fresh fruits and vegetables is essential. Stay away from heavy meals before your runs, and make sure to eat a post-run snack within thirty minutes to reap the full benefits of your workout and to prevent low blood sugar. My go-to rejuvenation is a banana.
4. A month before the race, start making post-race plans because many people will feel depressed and without direction after accomplishing such a feat. Plan to spend time with friends or family, train for another event, or take up a new hobby. I started swimming and biking to train for a triathlon.
5. A week before race day, start "carb loading" with pasta, bread, etc. This will provide adequate energy stores to run the full course. On race day morning, eat your usual breakfast before a run. Make sure you're well hydrated too!
6. During the marathon, it's easy to become discouraged after passing the mile 1 marker. However, focus instead on your months of preparation and how you're ready to tackle this. Also the spectators are amazing supporters, so I would advise running without your MP3 players to appreciate their cheers.
7. After crossing the finish line, savor the moment because there will never be another one like it (in a nutshell, you feel like you can take on anything). Celebrate with friends and take a few days of rest. Congrats! You're now a marathoner!
So you want to become a runner but not yet a marathoner? Take the plunge and sign up for a local 5K run. The motivation to train and get your money's worth will help you succeed. When I first started, I could barely run two miles without stopping! These small stepping stones will eventually lead you to finishing your first marathon. Good luck!
—Joy Chou
10:44am |
Comment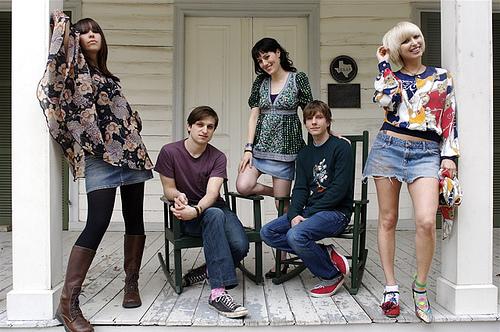 (karaoke-lyrics.net)
If I were to have a dance party with trampolines where we all wore colorblock in every color of the rainbow with handfuls of confetti, were all laughing and just went crazy with glitter and bubbles, I'd imagine the background music to be Tilly and the Wall.
Tilly and the Wall reminds me of how pretty simple melodies are and how entertaining singing with your friends can be! On a bed of piano keys and tap beats, they've been an exceptional favorite and a joy to listen to, since high school days when "Reckless" was the indie-live-spontaneously anthem. As fun-loving as the stomps and harmonies are, they also incorporate elements of the darker and deeper, however cheerful the melodies. After what seems like forever, leaving their fans lost and emo, they've got a new album Love Riot releasing this October 2.
Don't know where to start? For you Tilly noobs, I've categorized their songs for you:
For having a feel-good dance party:
Alligator Skin (the light shines bright in your eyes)
Reckless (we all want to see but you don't/you are amazing)
Sing Songs Along (Let us be free/let us sing songs along the bottom of barrels)
Black & Blue (I want to know everything about you/what makes you feel alive)
For songs about love: 
Fell Down the Stairs: (And love just like blood will always stain)
Rainbows in the Dark (Sometimes you just can't/hold back the river) 
The Ice Storm, Big Gust, and You
For life & friendship, easy to learn on guitar:
Bessa (and dream of you and me just off the coast)
The Freest Man, Let it Rain, Shake It Out, Tall Tall Grass, Coughing Colors
For road trips:
Pot Kettle Black, Cacophony, Chandelier Lake, Falling Without Knowing, Perfect Fit
For an intense checkers game:
I Found You
For tap-dance serenading your best friend (hopefully they'd appreciate it): 
Dust Me Off 
Stream here: 
—S
11:34am |
1 ♥ |
Comment