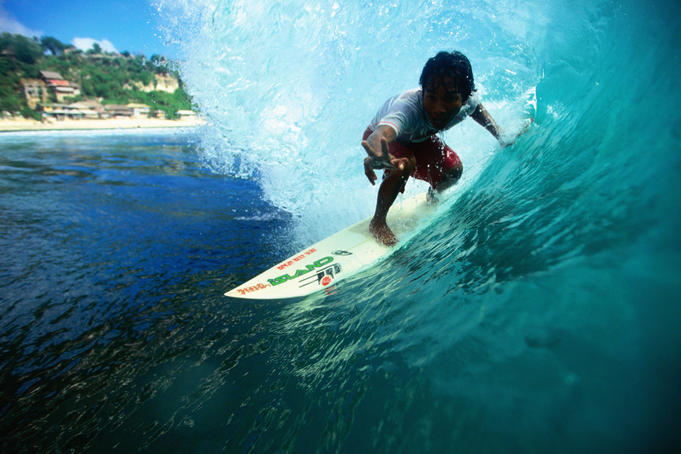 (Source: lonelyplanet.com)
Like anywhere in the world, living in New York has its disadvantages. Let's not even go into the price of real estate. I'm talking about the confines of the concrete jungle, the constant smog, congested streets and the overall ennui that sets in from being away from nature. 
But despite its gray exterior, New York actually has a lot of pockets of fun outdoor activities and opportunities to get away from the hustle and bustle. After a year of exploring, I'm feeling like New York really has it all—incredible culture, great cuisine, diversity, AND the great outdoors.
For instance, go surfing at Rockaway Beach before summer's over! (I'm going this weekend! Hang ten, bro.)
Brooklyn Bridge Park offers outdoor movies every week in the summer. (I watched a Clint Eastwood Western film there last night under the stars. So perfect!) There's also a pop-up pool and kayaking, plus you get an unparalleled view of the Manhattan and Brooklyn bridges.
Go hiking or horseback riding with a group! Remember my post on Outdoor Bound (now called Discover Outdoors)? They always have fun excursions.
If you want to take in picturesque views of flowers and trees, you should visit the Brooklyn Botanical Garden or New York Botanical Garden. There's a small admission fee for both.
For your animal fix, Central Park Zoo or Bronx Zoo (if you're willing to make the trek).
Though this isn't exactly considered the "outdoors," rooftop bars are always an amazing way to spend an afternoon/evening in the city. Check out this extensive list from NYMag. Or you could always just bring a six-pack to a friend's rooftop for something more low-key.
Happy Friday!
—Valerie
11:11am |
Comment
(via abookandashortlatte)
As promised, here's why cube jobs are awee-some: 
1. Cube families. Talking about absolutely everything in our little department family— it's like The Office, where everyone has a distinct personality and we talk over our short cubes [insert Jim pretending to walk down stairs in his cube]. 
2. Inside jokes. We like to have lottery questions, which are bid-off's for how cheap we'd do something really stupid if our boss ever wins the lottery. They're usually tailored to our interests in an extremely embarassing way.
3. I get to practice my handwriting. My desk is covered in post-it's, which is inevitable if you love making lists or writing in cursive. 
4. Space decoration. It's like the grown-up junior high locker, where you can design with sentimental and aesthetically-pleasing objects.
5. Our aweee-some view of downtown overlooking a broccoli tree canopy, with binoculars and cute finches on our ledges.
6. Getting my own stuff. Need more color-coded stickies? Sure. Need a new chair? Yess. Getting your own business cards? Coool.
7. The Cave. Since we all sit together in the dark only lit with our christmas strings and monitors, people call our office the GIS Cave (which leads the dudes to talk like Old Gregg. See #2).
8. Committees. We're starting a little running club and hopefully a biking group eventually, which I'm super excited about. I've got plans to decorate our wellness corner! 
9. Fridays! I usually wing it with skirts and dresses but wearing jeans is the best on Fridays. It's nice to dress up often, but especially nice to dress down.
Which reminds me, Happy Friday! What are you guys doing this weekend? The Austin Symphony is playing their last summer time this Sunday, and it's supposed to be awesome, plus you can picnic! Don't forget bug spray :)
—Sharon
9:59am |
Comment
(via glamour)
Oh yeahh, desk job and makin' the dough— something I enjoy, but at times I do have quips about having a desk job. How do I dislike thee? Let me count the reasons.  
1. Prolonged physical inactivity and the risk of carpal tunnel. I'm only 23 and already feel suspicious about this.. which brings us to the need to prioritize taking care of our bodies! 
2. Your friends know you're always on GChat. Because most normal people in 2012 have a Gmail, even if you're invisible, usually email is usually always open. Fear not! This only leads you to have to regulate your time connecting. 
3. The black hole of the internet. You can be looking up a type of pipe during a certain time period and with little self control, you could end up looking at bike parts on amazon. It's a dangerous world out there. You could get swept away. 
4. Terrible posture. At times, desk jobs can get repetitive and weary, and sustaining a good posture gets tiring, leading to back pain and poor lumbar support. Get a good chair, and try not to be lazy. :(
5. A growing repulsion to time spent on computers. If you do 100% of your work on a computer (like me), it's easy to get home and have to resist the urge to throw it across the room. Just kidding.
6. Tired eyes. In our office, we turn off the lights and use christmas light strings, which sometimes I love and sometimes I wish weren't the case. Overall, there's something about too much pixelation, digitization and animation that makes me feel like I need to go outside and run around a flower field.
7. Possible freezing. If your office is anything like mine, every room feels great except ours, which is freezing. In addition to a feather down jacket, I bring scarves and light a small fire. I exaggerate, but sometimes I do forget what warmth is. I also keep multiple jackets in my car and on the back of my chair. 
What do you think, love the cube job? What other things do you dislike? My semi-complaints wouldn't be legit without some levelheaded appreciation, so tune in tomorrow for why cube jobs are aweee-some. Keep it classy folks.
—Sharon
12:26pm |
Comment
(Source: whatisultimate.com)
This weekend I played ultimate frisbee for the first time and woke up feeling sore in places I never knew existed. It's an awesome, fast-paced sport that is actually a great way to socialize and meet people. Set against the backdrop of the Jazz Age Lawn Party at Governor's Island, we leapt and sprinted for four hours! It's an intense workout—don't underestimate the physicality of ultimate frisbee, my friends.
If you're interested in playing in New York, check out the ultimate frisbee meetups happening all over the city.
Here are also some helpful tips to make you a better player.
Check out this intense photo of the group I played with yesterday:
—Valerie
2:25pm |
1 ♥ |
Comment
(via drcleancarpet)
How often do you guys vacuum? When I grew up, I'd toss my stuff all over my room and when my mom would vacuum the house and tell me to be more neat, I'd be like "whatevs." 
Right before we moved out last year, my mom brought up a new vacuum for me to use (where we never vacuumed once). We cleaned two small rooms of carpet and collected a bag full of dust, filthy gray and the consistency of fluffy sand.
Finally, out of my repulsion and bitter realization of my ignorance, I understood. It had been such a slow buildup during the year, we hadn't noticed and never felt the need. 
Now every weekend, I'm adamant about it. Vacuuming is one of those lazy-person qualms, like washing the dishes right after you eat or littering your clothes and junk around your place as long as we say "Sorry, my place is so messy!" whenever anyone comes over. (As if saying it makes it okay.) When are we going to get sick of it, not making the time to present our best? Where the point where you stop getting taken care of and start taking care of yourself?
My mom says our generation is lazy, letting our counters and showers rust because we don't have time (read: the desire) to learn how to clean properly or keep ourselves moving. Glued to our electronics, being sucked into bad posture because of our office jobs. And, you know me, I'm old-fashioned and admire women willing to mow the lawn, like my mom and ZChen. What do you think?
—S
11:43am |
1 ♥ |
Comment